---
Old is Gold ! Heard this right ? We are in age of Metal OX, which means it's time to stop using colors like red or baby pink on your nail every time you give yourself a manicure. In 1970s the French Manicure or French Nail came in Fashion ,made popular by American Celebrities with their own signature manicure styles ,using unique techniques to add the French Touch to any look.
French manicures ,in early time was considered "outdated" for a time, but that's certainly not now the same case; in fact, the trend has made an explosive comeback in 2019 –100-years-of-manicures — and from then onwards, the creativity and the process follows and trend continues. From ombré to neon to rainbow to white, all manicure lovers may feel as if they've seen it all at this point — but if you are in same shoe and little shocked, don't get disheartened.
Classic Version will remain traditional

We hardly think of half colored nail as being unfinished. We see the nail bed as a canvas and the design is open to the creativity, shapes and angles. Why not just paint your nails white? Overall, it's the easiest way of carrying of a French manicure that makes it "CHIEF" material for the hectic environment of fashion vogue.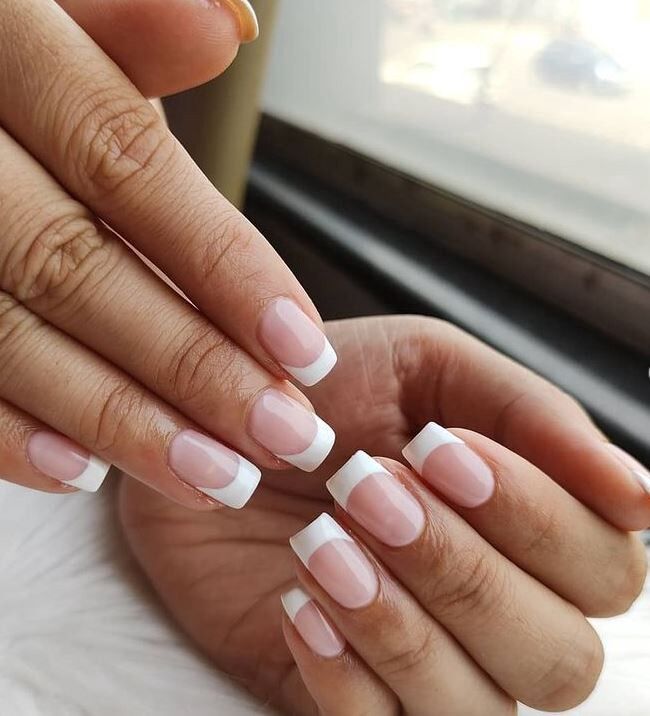 Try to use a single coat of a beautiful absolute strengthener like Zoya Naked Manicure Perfectors. Plus, if you do go for a "real-artistic" look, you can use a French tip guide to get the shape without having to wait for that base nude shade to dry.
Go Bossy Lady Geometric

To get that attraction in office, bob your nails to any angle you like or ask you salon to give that perfect shape that suits your hand and paint it with black. You can use a stickers or templates to ensure that you don't fleck the black nail polish on the entire cuticle.
Blue Square shaped

Kendall Jenner's square-shaped, blue-tip French manicure proved this trend's versatility — especially considering it was an identical version of her sister Kylie Jenner's, albeit with a much brighter shade.
Neon French Manicure

Neon or fluorescent color nails are a lovely take on the classic French tip nail design. The base color is a soft nude pink with subtle shimmery. It's a modern way to wear a French manicure in 2021.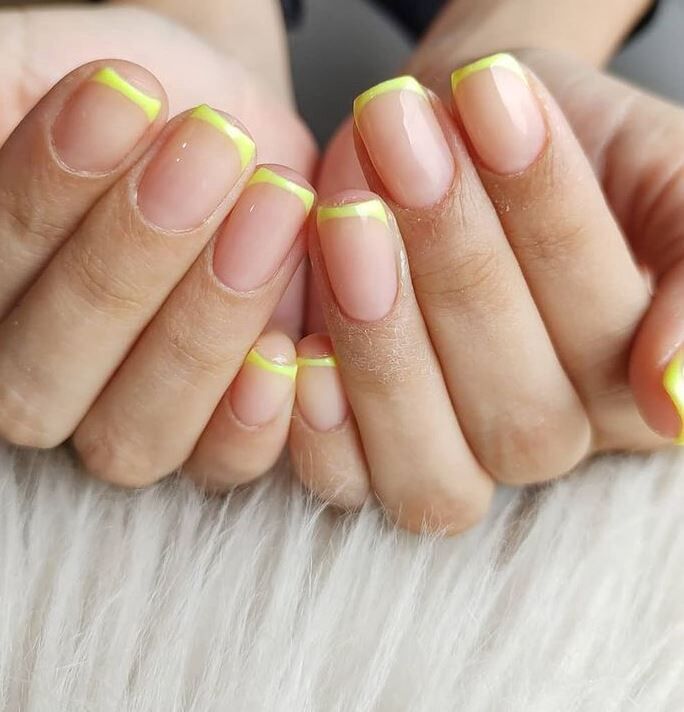 Three Layered French tip If you're looking for ways to jazz up your bridal wear, this three-layered reverse French tip is your number one choice.Nails by Glaminati
Zigzag Nails

Zigzag nails, also known as chevron nails or Zebra look, may look complicated but not really are and is relatively easy to create at home! Any two shades of colors, a sticky tape and a little of self-restraint (if you want DIY), or just gear up to HolynailsPune and you will be rocking with this retro manicure in no time!
Opt for the reverse French nail design for your next fashion outing and you won't be disappointed.